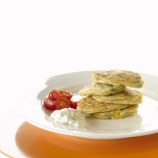 Click image to enlarge
Course: Starter
Dish: Vegetarian
Serves: 4
Nutritional information per serving:
242kcals/1020kJs
Carbohydrates: 32.8g
Protein: 9.2g
Fat: 8.2g
Fibre: 3.0g
Canned sweetcorn is a source of folic acid which helps normal growth development and cell renewal
Mini Dip Pancakes
Ideal for the kids on Pancake Day, this recipe is healthier than your average pancake, and can contain fruit for that extra health-kick.
10 minutes to prepare and cook. Serves 4.
See "Off The Shelf" for more recipes devised with James Martin
Ingredients:
125g self-raising flour
5ml (1 level teaspoon) baking powder
1 medium-sized beaten egg
150ml milk
145g can processed peas, drained
165g can corn niblets, drained
1 tsp vegetable oil
cherry tomatoes
1 tbs Greek yoghurt
diced cucumber
Method:
1. Make a 'well' in 125g self-raising flour and 5ml (1 level teaspoon) baking powder. Add 1 medium-sized beaten egg. Gradually add 150ml milk and mix to a smooth batter.
2. Carefully mix in the drained processed peas and corn niblets
3. Heat a non-stick frying pan and add a teaspoon of vegetable oil. Use a tablespoon to drop a spoonful of the pancake mixture into the pan.
4. Cook each pancake for one and a half minutes on each side or until golden brown.
Serve with halved cherry tomatoes and a tablespoon of Greek yoghurt mixed with diced cucumber.