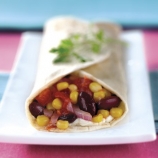 Click image to enlarge
Course: Starter
Dish: Vegetarian
Serves: 4
Nutritional information per serving:
Per serving:
Calories: 370
Fat: 6g
Protein: 18g
Carbohydrates: 87g

Canned sweetcorn is a source of folic acid which, helps normal growth development and cell renewal
Mexican Enchiladas
For a modern and contemporary dish, try this recipe for a taste of Mexico!
20 minutes to prepare and cook. Serves 4.
See "Ten Minute Tasters" for more recipes
Ingredients:
410g can Red kidney beans, drained and rinsed
2 cloves Crushed garlic
1 Finely chopped red onion
1 tbsp Olive oil
400g can Chopped peeled plum tomatoes, drained
1 tbsp Tabasco
Large bunch Finely chopped coriander
190g can Sweetcorn, drained
150g Low fat cream cheese
8 Flour tortillas
Method:
1. Place the olive oil and the red onion in a warm pan and allow the onion to soften for 2 minutes. Add the garlic and red kidney beans and stir together. Allow to cook for 1-2 minutes.
2. Add the tomatoes, sweetcorn and Tabasco and continue stirring. Allow to cook for a further 3 minutes. Finally, add the coriander and leave to cook for another minute.
3. While the ingredients cook, take the tortillas and place them under a hot grill for 1 minute to warm. When ready, spread some cream cheese on each of the tortillas.
4. Spoon the bean mixture into the middle of each tortilla and fold to eat.