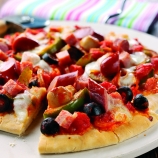 Click image to enlarge
Course: Main
Dish: Meat
Serves: 4
Nutritional information per serving:
Energy: 535 kcals / 2245 kJ,
Protein: 23.7mg
Fat: 27.6mg
Carbohydrate: 48.5mg
Fibre: 4.1mg
Sodium: 1.54g
Salt: 3.9g

Canned tomatoes are an excellent source of cancer-fighting antioxidant Lycopene
Meat Feast Pizza
Try this pizza recipe for a healthier alternative to a takeaway.
30 minutes to prepare and cook. Serves 4.
Ingredients:
2 x 150g pizza bases
400g can chopped tomatoes with olives
290g can mushrooms, drained
400g can hot dogs, drained and chopped
100g Spam light, cubed
150g mozzarella, sliced

1 small onion, sliced
1 green pepper, deseeded and sliced
2 tbsp tomato puree
1 tbsp oil
2 cloves of garlic, crushed
Flaked sea salt and freshly ground black pepper
Method:
1. Preheat the oven to 200C/400F/Gas Mark 5.
2. Heat a little oil in a pan and cook the onion and peppers until soft but not coloured. Add the chopped tomatoes and puree and simmer for 5 minutes until slightly thickened and season to taste.
3. Place the pizza bases on a baking tray. Spoon the tomato mix over the bases.
4. Scatter with the mushrooms, chopped hot dog and cubed Spam. Top with the cheese and bake in the oven for 15 minutes.