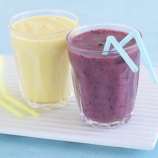 Click image to enlarge
Course: Dessert
Dish: Vegetarian
Serves: Makes 2 Drinks
Nutritional information per serving:
Calories: 185
Protein: 6.4g
Fat: 3.1g
Saturated Fats: 1.8g
Carbohydrate: 36g
Fibre: 4.1g

Canned apricots are an excellent source of vitamin A which is essential for maintaining healthy skin
Mango, Apricot and Coconut Smoothie
This smoothie is so quick and easy to make and tastes delicious too – it's a great alternative to sugar-packed juices, and contains two of your 5-A-Day
10 minutes to prepare and serve. Serves 2.
Ingredients:
400g canned mango, drained
200g canned apricots in juice, drained
125ml (4 fl oz) coconut milk
125ml (4 fl oz) 'light' or reduced fat evaporated milk
A few drops of vanilla extract
A cupful of crushed ice
Method:
1. Place the ingredients in a smoothie maker, blender or food processor and blend until smooth and frothy.
2. Serve immediately.