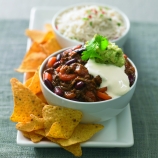 Click image to enlarge
Course: Main
Dish: Meat
Serves: 4
Nutritional information per serving:
Calories: 302
Protein: 31.8g
Carbohydrate: 11.9g
Sugars: 6.5g
Fat: 14.9g
Saturated fat: 3.9g
Fibre: 3.9g

A portion of canned carrots provides nearly one half of the RDA for vitamin A
Homemade Chilli Con Carne
This classic dish is made simple by using a variety of canned foods.
1 hour and 35 minutes to prepare and cook. Serves 4.
See "Switch 2" for more recipes devised with James Martin
Ingredients:
500g beef mince
1/2 x 300g can Eazy Onions
400g can tomatoes
1/2 x 300g can sliced carrots, drained,
1/2 x 290g can sliced mushrooms, drained
1/2 x 420g can kidney beans, drained
2 tbsp olive oil
2 garlic cloves, crushed
1 red chilli, seeds removed and finely chopped
1-2 tsp chilli powder
1 heaped tsp cocoa powder
1 tbsp tomato puree
400ml water
1 beef stock cube
Suggested accompaniments: Mature cheddar, tortilla chips, soured cream, guacamole and boiled rice

Method:
1. Heat the oil in a large casserole dish, or heavy based saucepan.
2. Add the beef and cook until browned, breaking up the mince with a wooden spoon.
3. Add the onions, garlic, fresh chilli and cocoa powder and cook on a medium heat for 1-2 minutes.
4. Stir in the tomato puree, canned tomatoes, water and crumble in the stock cube. Stir well and add the carrots, sliced mushrooms and kidney beans.
5. Bring to the boil, reduce the heat, cover and simmer over a low heat for 45 minutes. Stir occasionally.
6. Remove the lid and cook for a further 10 minutes to allow the chilli to thicken slightly.