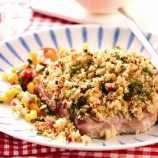 Click image to enlarge
Course: Main
Dish: Fish
Serves: 4
Nutritional information per serving:
Calories: 452
Carbohydrate: 37g
Protein: 46g
Fat: 15g
Saturated fat: 3g
Fibre: 3g

Canned apricots are an excellent source of vitamin A which is essential for maintaining healthy skin
Herb Crusted Tuna with Apricot Salsa
This recipe is ideal when cooking for friends, and is a great way to put a modern spin on a tuna dish.
1 hour and 30 minutes to prepare and cook. Serves 4.
See "CAN-veniently Nutritious" for more recipes
Ingredients:
1 tbsp olive oil
1 small onion, finely chopped
1 red chilli, deseeded and finely chopped
75g granary breadcrumbs
2 tbsp freshly chopped coriander
2 tbsp freshly chopped parsley
4 x 170g tuna steaks, fresh or defrosted
For the salsa:
220g can apricots, drained and cut into small cubes
227g can chopped tomatoes, drained
198g can sweetcorn, drained
¼ cucumber, finely diced
1 red onion, finely chopped
1 red chilli, deseeded and finely chopped
2 tbsp rice vinegar
Grated zest and juice of 1 lime
1 tbsp olive oil
2 tbsp fresh mint, chopped.
Method:
1. Mix the chopped fruit and vegetables, add the chilli, vinegar and the zest and juice of 1 lime and the oil. Mix thoroughly and leave to stand for 30 minutes. Just before serving add the mint and toss once more.
2. Preheat the oven 180C/350F/Gas 4.
3. Heat the oil in a frying pan and add the onion and chilli, cook until soft but not coloured. Add the breadcrumbs and cook for 2-3 minutes until beginning to take on colour, stir in the herbs.
4. Season the tuna steaks and place in a shallow ovenproof dish. Press the herb crumb mixture onto one side of the tuna.
5. Bake in the oven for 20 minutes or until the fish is cooked (it should be opaque and firm).
6. Serve the tuna alongside the sharp salsa with boiled potatoes, brown rice or mixed grain bread.
Canny Fact:
You can find sustainable fish at the supermarket.