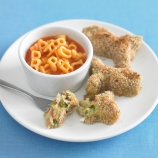 Click image to enlarge
Course: Main
Dish: Fish
Serves: 4
Nutritional information per serving:
Calories: 256
Protein: 22.9g
Carbohydrate: 28.5g
Sugars: 5.7g
Fat: 6.44g
Saturated fat: 2g
Fibre: 4.3g

Canned tuna contains primary fat-soluble antioxidants that support muscle function
Fun Fish cakes with Vegetable Mash
This recipe is a great way to give your kids their essential nutrients as well as cleverly disguising one portion of their 5-A-DAY.
50 minutes to prepare and cook. Serves 4.
See "Switch 2" for more recipes devised with James Martin
Ingredients:
200g potatoes, chopped, boiled & drained (or ready made mash)
200g can tuna, drained
200g can prawns, drained
300g can green beans, drained and chopped into pea-sized pieces
200g petit pois, drained
knob of butter
splash of milk
2 medium sized eggs, hard-boiled & chopped (optional)
1 tbsp chopped fresh parsley
Fresh ground pepper
For the coating:
2 medium size eggs, beaten
150g fresh wholemeal breadcrumbs

For the accompaniment:
400g can Alphabet or Numberetti pasta shapes

Method:
1. Preheat the grill to a moderate heat.
2. Mash the potatoes with the butter and milk, add the chopped green beans and petit pois, mix well and season with black pepper.
3. Add the fish, hard-boiled eggs and the parsley & mix well.
4. Divide the mixture into 6 or 8 fun fish shapes. Place on a greased baking sheet & chill for at least 10 minutes until firm.
5. Dip each fish shape into the beaten egg and coat with the breadcrumbs, chill for up to 1 hour, to firm.
6. Grill for 5 minutes each side, or until golden brown & heated through.
How to serve:
Serve with alphabetti pasta shapes.

Canny Fact:
You can find sustainable fish and seafood at the supermarket.