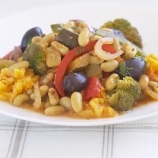 Click image to enlarge
Course: Main
Dish: Vegetarian
Serves: 4
Nutritional information per serving:
Calories: 418
Protein: 16g
Fat: 17g
Of which saturates: 2.8g
Carbohydrate: 55g
Fibre: 14g
Flageolet beans provide longer lasting energy, helping you to feel fuller for longer
Flageolet Bean & Broccoli Provencal
This recipe is the ideal lunchtime dish, or a light dinner for those warmer months
1 hour to prepare and cook. Serves 4.
Ingredients:
2 tbs (30 ml) extra virgin olive oil
1 onion, sliced
½ red pepper, deseeded and sliced
½ green pepper, deseeded and sliced
2 garlic cloves, crushed
350g (12 oz) broccoli florets
400g can ratatouille
420g can flageolet beans, drained
2 tablespoons (30 ml) tomato paste
2 teaspoons (10 ml) dried oregano or basil
60g (2 oz) black olives
A little low-sodium salt and freshly ground black pepper
A small handful of fresh parsley or basil leaves, chopped
For the mash:
450g (1 lb) sweet potatoes, peeled
125g (4 oz) swede, peeled
200ml (7 fl oz) milk
½ teaspoon (2.5 ml) dried rosemary
Method:
1. Heat the olive oil in a heavy based pan and sauté the onions and peppers over a moderate heat until soft. Add the garlic and broccoli and continue cooking for a further 5 minutes, stirring occasionally.
2. Add the ratatouille, beans, tomato paste and dried herbs. Cover and simmer for 15- 20 minutes, adding the olives 5 minutes before the end of the cooking time. Season with the low-sodium salt and black pepper.
For the mash, cut the sweet potato and swede into rough pieces and cook in a little fast-boiling water for 10 - 15 minutes, until tender. Drain then mash with the milk, rosemary and extra seasoning if necessary. Serve with the bean provencal and scatter over the parsely or basil leaves