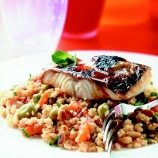 Click image to enlarge
Course: Main
Dish: Fish
Serves: A
Nutritional information per serving:
Calories: 444
Carbohydrate: 51g
Protein: 39g
Fat: 10g
Saturated fat: 1g
Fibre: 5g
Canned green beans are a source of folic acid which is essential for healthy blood cells
Vegetable Cous Cous with Seared Cod
A succulent piece of cod sits perfectly on this light cous cous salad.
30 minutes to prepare and cook. Serves 4.
See "CAN-veniently Nutritious" for more recipes

Ingredients:
1 small red onion finely chopped
200g can tomatoes
50g / 2oz soft brown sugar
2 tsp dark soy sauce
Grated rind and juice of 1 lime
½ tbsp ground allspice
4 thick cod fillets with skin
200g cous cous
300g can broad beans, drained
300g can green beans, drained
Handful coriander leaves
Noodles or rice to serve
Method:
1. Heat 2 tsp olive oil and cook the onion until soft but not coloured. Add the tomatoes and 1 tsp sugar and simmer gently for 10 minutes. Leave to cool.
2. To make the sauce for the cod; mix together the soy sauce, lime rind and juice, allspice and remaining sugar in a small bowl.
3. Place the cod skin side down on a foil-lined grill pan and grill for 1 minute. Turn skin side up and grill for 1 minute. Spoon the soy sauce over the cod and return under the grill for 2-3 minutes until the skin is crisp and golden.
4. Place the cous cous in a large bowl with 300ml/half a pint of boiling water and 1 tbsp olive oil. Season and stir once, cover and leave to stand for 10 minutes. Fluff up the cous cous and stir in the cooled tomatoes, broad beans and petit pois. Season with plenty of sea salt and black pepper and sprinkle with the pine nuts. Serve the cod on a bed of the cous cous.

Canny fact:
You can find sustainable fish at the supermarket.