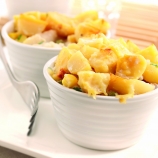 Click image to enlarge
Course: Main
Dish: Fish
Serves: 4
Nutritional information per serving:
Calories: 417
Carbohydrate: 33.8g
Protein: 33.5g
Fat: 17.4g
Saturated fat: 8.2g
Fibre: 2.8g

Canned sweetcorn is a source of folic acid, which helps normal growth development and cell renewal
Fish Pie
A delicious fish pie recipe is made substantially simpler with the help of canned food.
55 minutes to prepare and cook. Serves 4.
See "Can-veniently Nutritious" for more recipes.
Ingredients:
250g cod or haddock fillet, skinned
150g smoked haddock fillet, skinned
200ml milk
295g can condensed mushroom soup
198g can sweetcorn, drained
300g can peas, drained

4 tbsp freshly chopped parsley
Freshly ground nutmeg (optional)
Juice of ½ lemon
Freshly ground black pepper
820g can potatoes, drained and cut into quarters
125g cheddar cheese, grated
Method:
1. Preheat the oven to 190C/375F/Gas Mark 5.
2. Lay the fish in a large frying pan and pour over the milk. Cover and bring slowly to the boil. Simmer gently for 5-7 minutes or until the fish flakes apart. Remove the fish and place into one large ovenproof dish or four individual dishes.
3. Add the soup to the milk and heat gently until thoroughly combined.
4. Add the sweetcorn, peas, parsley, nutmeg (if using), the lemon juice and pepper, and pour over the fish.
5. Place the potatoes on top of the fish and scatter with cheese.
6. Bake for 25 minutes or until the potatoes are beginning to turn golden and the fish filling is hot and bubbling.
Canny Fact:
You can find sustainable fish at the supermarket.