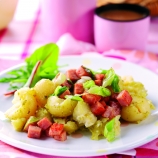 Click image to enlarge
Course: Starter
Dish: Meat
Serves: 4
Nutritional information per serving:
Energy: 260 kcals / 1084 kJ
Protein: 8.7mg
Fat: 18.3mg
Carbs: 15.3mg
Fibre: 0.9mg
Sodium: 0.71g
Salt: 1.8g
Canned potatoes contain Vitamin C, which is great for cellular growth
Crushed Pesto Potatoes
These potatoes make an excellent, tasty addition to any meal.
20 minutes to prepare and cook. Serves 4.
Ingredients:
2 x 300g can new potatoes, drained
150g can Spam light, diced
3 tbsp sour cream, optional
2 tbsp pesto sauce
1 tsp oil
3 spring onions
Method:
1. Place the drained potatoes in a saucepan. Cover with water and heat gently until just hot.
2. Drain and return to the pan. Add the pesto and toss.
3. Heat the oil in a pan and add the spring onion. Cook gently until soft. Add the chopped Spam and cook until beginning to crisp. Spoon onto kitchen paper to absorb any excess oil.
4. Slightly crush the potatoes with the back of the fork. Spoon into a container. Top with the spring onion and the meat. Serve with a little pot of sour cream.