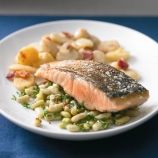 Click image to enlarge
Course: Main
Dish: Fish
Serves: 2
Nutritional information per serving:
Calories: 471
Protein: 35.9g
Carbohydrate: 30.5g
Sugars: 1.6g
Fat: 23.7g
Saturated fat: 4.7g
Fibre: 7.1g

Canned beans are delicious and count as one of your 5-A-DAY
Crisp Salmon with Minted Broad Bean Salad
This recipe is packed with two portions of your 5-A-DAY, protein and folic acid, providing a well-balanced meal.
35 minutes to prepare and cook. Serves 2.
See "Switch 2" for more recipes devised with James Martin
Ingredients:
2 salmon fillets (approx 100g each)
400g can flageolet, or broad beans, drained
Olive oil
1 tbsp fresh mint, finely chopped
1 tbsp fresh lemon juice
1 tsp wholegrain mustard
Sea salt and freshly ground black pepper
For the potatoes:
300g can new potatoes, drained and thickly sliced
50g bacon lardons
1 clove garlic, crushed
Method:
1. Heat a frying pan over a high heat and add a drizzle of olive oil.
2. Sprinkle the salmon skin with sea salt and black pepper.
3. Cook the salmon, skin-side down for 4 minutes or until the skin is golden and crisp. Turn and cook for 2 minutes and set aside.
4. Put the beans in a bowl with the freshly chopped mint, lemon juice, olive oil and wholegrain mustard, stir and set aside.
5. Add a little olive oil to the frying pan and sauté the garlic and bacon lardons until they start to brown, add the new potatoes and continue to sauté for 5 minutes, or until the potatoes are lightly golden.
How to serve:
To serve, sit the salmon on a pile of broad beans with a generous serving of sautéd new potatoes.

Canny Fact:
You can find sustainable salmon at the supermarket.