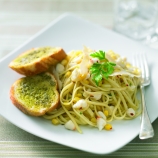 Click image to enlarge
Course: Main
Dish: Fish
Serves: 4
Nutritional information per serving:
Calories: 676
Protein: 29.9g
Carbohydrate: 89.9g
Sugars: 6.7g
Fat: 24,5g
Saturated fat: 7.7g
Fibre: 3.9g

Canned crab meat is a tasty source of low-fat protein
Crab and Lemon Liguine with Pesto Garlic Bread
For a simple, classic dish to impress your friends, this dish is quick and easy to make.
30 minutes to prepare and cook. Serves 4.
See "Switch 2" for more recipes devised with James Martin
Ingredients:
For the pasta:
300g linguine, cooked as per instructions
2 x 170g cans white crab meat, drained
198g can sweetcorn, drained
Olive oil
1 clove of garlic crushed
1/2 tsp chilli flakes
1 lemon, zest and juice
50 ml white wine
1 tbsp fresh parsley, roughly chopped
100g fresh parmesan, grated
Coarse sea salt and freshly ground black pepper
For the pesto garlic bread:
Small french stick, cut 3/4 through, in 1 cm slices (so they are still attached)
2 tsp olive oil
1tbsp pesto sauce
1 clove fresh garlic, crushed
Method:
Pasta:
1. Put a large pan of water on to boil for the pasta.
2. Heat 3 tbsp olive oil in a large saute, or frying pan, add the garlic and chilli flakes and allow to gently infuse the olive oil over a low heat for 5 minutes.
3. Meanwhile cook the linguine pasta as per the instructions.
4. Add the drained crabmeat and corn to the saute pan, the zest and juice of the lemon, and the wine, season and shake the pan to mix.
5. Drain the pasta and tip onto the crab, toss gently and serve with a sprinkling of of rough chopped parsley and parmesan.
Pesto garlic bread:
1. Pre-heat the oven 200C/400F/Gas6.
2. Mix the olive oil, pesto and garlic in a small bowl and spread onto the french bread.
3. Wrap the bread in a piece of foil and bake in the oven for 15 minutes.
4. Open the foil, so the top of the bread is exposed and cook for a further 5 minutes to crisp the top of the bread.

Canny fact:
You can find sustainable canned seafood at the supermarket.