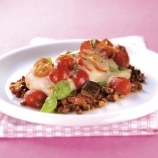 Click image to enlarge
Course: Main
Dish: Fish
Serves: 4
Nutritional information per serving:
Calories: 345
Fat: 8 g
Protein: 46 g
Carbs: 69 g

Canned tomatoes are a great source of the cancer fighting antioxidant lycopene
Cod on Lentil and Mushroom Ratatouille
Looking to cook a substantial meal for four but don;t have time to slave over the oven? Try this recipe, packed with nutrients and protein.
10 minutes to prepare and cook. Serves 4.
See "Ten Minute Tasters" for more recipes.
Video demonstration part 1:
Video demonstration part 2:
Ingredients:
600g cod fillets
250g baby plum tomatoes, halved
250g amber tomatoes, halved
40g chopped fresh basil
400g can Italian cherry tomatoes
390g can ratatouille
410g can lentils, drained
290g can whole button mushrooms, drained
200g low fat mozzarella cheese.

Method:
1. Mix the cherry tomatoes, mushrooms, lentils and ratatouille in a large baking tray.
2. Lay the cod fillets on top of the mixture and season.
3. Mix the basil, plum and amber tomatoes into a separate bowl and place over the top of the fish.
4. Tear the mozzarella into small portions and lay over the top each fillet.
5. Pre-heat the oven to 240°C/475°F/Gas Mark 9 and cook for 8-9 minutes. When ready, the mozzarella and tomatoes should be slightly browned and the fish should be tender and soft.
6. Serve each piece of fish with a generous portion of the ratatouille.

Canny Fact:
You can find sustainable fish at the supermarket.