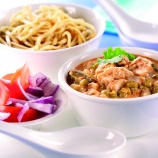 Click image to enlarge
Course: Main
Dish: Fish
Serves: 4
Nutritional information per serving:
Calories: 297
Carbohydrate: 14g
Protein: 28g
Fat: 15g (5g saturated fat)
Fibre: 4g
Canned green beans are a source of folic acid, which is essential for healthy blood cells
Red Thai Curry
This home-made curry is a healthier, easier, and quicker alternative to ordering in a takeaway.
20 minutes to prepare and cook. Serves 4.
See "CAN-veniently Nutritious" for more recipes
Ingredients:
1 tbsp sunflower oil
2 onions sliced
2 tbsp red curry paste
200ml canned reduced fat coconut milk
400g can medium red salmon
200ml fish or vegetable stock
Juice of 1 lime
200g can peas, drained
200g can green beans, drained
Handful coriander leaves
Noodles or rice to serve
Method:
1. Heat the oil in a large pan and cook the onion for 4-5 minutes until they start to brown. Add the curry paste and cook for a minute.
2. Stir in the coconut milk and bring to a gently simmer. Gradually add the stock, followed by the lime juice and the salmon. Cook gently for 4-5 minutes.
3. Add the peas, green beans and the coriander. Serve with noodles or rice.
Canny Fact:
You can find sustainable canned fish at the supermarket.