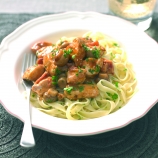 Click image to enlarge
Course: Main
Dish: Meat
Serves: 4
Nutritional information per serving:
Calories: 657
Protein: 43.5g
Carbohydrates: 92.7g
Sugars: 12.8g
Fat: 15.1g
Saturated fat: 4g
Fibre: 4.9g

Canned red wine sauce is ready to use straight out the can, which saves time and tastes great
Classic Chicken in Red Wine Casserole with Buttered Noodles
A delicious chicken dish made so much easier with the aid of canned food.
50 minutes to prepare and cook. Serves 4.
See "Switch 2" for more recipes devised with James Martin
Ingredients:
For the casserole:
400g diced chicken breast,
1 x 500g can red wine sauce
1 x 300g can button mushrooms, drained
1/2 x 390g can eazy onions
1tbsp olive oil
2 cloves garlic, crushed
100g smoked streaky bacon, cut into strips
1/2 tsp paprika
1 tbsp fresh parsley roughly chopped
salt and freshly ground black pepper

For the tagliatelle:
400g tagliatelle, cooked as per the instructions
Knob of butter
Method:
Casserole:
1. Heat the olive oil in a heavy based casserole dish.
2. Fry the onion, garlic and bacon for 2-3 minutes, until the bacon is browned.
3. Add the chicken and paprika and continue cooking for 2-3 minutes on a medium heat.
4. Add the red wine sauce, mushrooms, half the parsley and season. Cover and cook for 20 minutes.
How to serve:
Stir the butter through the hot tangilatelle, serve with the chicken and sprinkle with the remaining parsley. Delicious served with homemade garlic ciabatta.