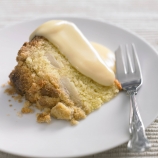 Click image to enlarge
Course: Dessert
Dish: Vegetarian
Serves:
Nutritional information per serving:
Calories: 413
Protein: 6g
Carbohydrate: 46.7g
Sugars: 28.6g
Fat: 23.8g
Saturated fat: 12.5g
Fibre: 1.3g

Canned dairy products are a quick and nutritious source of calcium, which helps to keep our bones strong and healthy
Cinnamon Apple and Pear Crumble Cake with Custard
Canned fruit is a great way to consume your 5-A-DAY. This recipe contains both apples and pears – not bad for a dessert!
1 hour and 30 minutes to prepare and cook. Serves 12.
See "Switch 2" for more recipes devised with James Martin
Ingredients:
For the cake:
½ x 385g can sliced apples, drained
½ x 410g can pear quarters, drained
180g caster sugar
180g butter
150g self raising flour
50g ground almonds
3 eggs
1-2 tbsp milk
For the crumble:
60g caster sugar
90g butter
120g self raising flour
2 tsp cinnamon

To serve:
1 x 425g can custard

Method:
Preheat the oven 180C/ 350F/Gas4.
Grease and line the base of a 23cm round, deep cake tin.
Cut the apples and pears into slices and toss with half the cinnamon and set aside.
Crumble:
1. Rub the butter into the flour with your fingertips until it resembles fine breadcrumbs.
2. Add the remaining cinnamon and sugar; mix well and set aside.
Cake:
1. Beat the butter and sugar in a large bowl until pale.
2. Add the remaining ingredients and beat until combined.
3. Pour the mixture into the cake tin, place the fruit slices on top and sprinkle with the crumble mixture.
4. Bake for 50-55 minutes in the middle of the oven until firm and golden.
5. Cool in the tin before transferring to a wire rack.
How to serve:
Serve warm, or cold with a generous helping of creamy custard.