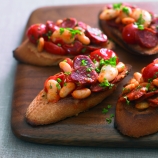 Click image to enlarge
Course: Starter
Dish: Meat
Serves: 4
Nutritional information per serving:
Calories: 348
Protein: 15.2g
Carbohydrate: 41.6g
Sugars: 4.6g
Fat: 14.6g
Saturated fat: 3.7g
Fibre: 6.1g

This recipe contains three of your 5-A-DAY!
Chorizo Bruschettas with Butter Beans, Cannellini Beans and Cherry Tomatoes
After a long day at work cooking may not be at the top of your priorities, this recipe can be prepared the night before and popped in the oven when you're ready to eat.
40 minutes to prepare and cook. Serves 4.
See "Switch 2" for more recipes devised with James Martin.
Ingredients:
For the Chorizo:
100g chorizo ring, skin removed and cut into 1cm slices
1/2 x 400g can cherry tomatoes, drained
1 x 220g can butter beans, drained
1/2 x 410g can cannellini beans, drained
Olive oil
2 cloves garlic, crushed
Splash of good red wine
2 tbsp fresh parsley, chopped
Salt and freshly ground pepper

For the Bruschetta:
1 French bread cut into 12 x 1cm rounds (cut on the diagonal)
1 fat clove garlic, peeled
Olive oil
Coarse sea salt

Method:
Chorizo:
1. Preheat the oven 200C/400F/Gas 6.
2. Heat a little olive oil in a frying pan and add the garlic and chorizo, fry gently, making sure the garlic doesn't brown.
3. Add the wine and tomatoes and continue cooking for 1-2 minutes.
4. Add butter beans, cannellini beans and half the parsley and continue cooking for 5 minutes on a medium/low heat. Season and set aside.
Bruschetta:
Rub each side of each slice of the bread with the garlic and spread the slices flat on a baking tray. Drizzle with a little olive oil and a fine sprinkling of coarse sea salt and bake in the oven to crisp for 5-10 minutes.
How to serve:
Sit the bruschetta on a large serving platter and spoon the warm chorizo mixture on top, sprinkle with the remaining chopped parsley and serve. Assemble the bruschetta at the last minute, so the bread does not go soft!