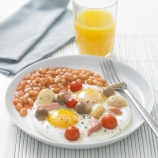 Click image to enlarge
Course: Main
Dish: Meat
Serves: 1
Nutritional information per serving:
Calories: 606
Protein: 38.9g
Carbohydrate: 46.5g
Sugars: 12.2g
Fat: 31g
Saturated fat: 8.2g
Fibre: 11.4g
Canned baked beans are an excellent source of iron and count as one of your 5-A-DAY
Breakfast Omelette with Baked Beans
Start the day with a full English breakfast – loaded with two portions of your 5-A-DAY.
20 minutes to prepare and cook. Serves 1.
See "Switch 2" for more recipes devised with James Martin
Ingredients:
2 medium eggs
1/2 x 300g can button mushrooms, drained
1/2 x 400g can cherry tomatoes, drained
1/2 x 300g can new potatoes, cut into chunks, drained
50g of 300g spam chopped pork/ham with bacon
1/2 x 220g can baked beans
1 tsp vegetable oil
Salt and freshly ground pepper
Method:
1. Prepare the grill.
2. Heat a large frying pan and lightly drizzle with oil.
3. Slice the spam, cut into strips, add to the pan with the potato and fry gently for 2-3 minutes allowing them to colour and crisp slightly.
4. Add the mushrooms and cherry tomatoes and continue to fry for 2-3 minutes, shaking the pan occasionally.
5. Break the eggs into the pan, allow the egg white to run through the mixture, season and cook for 2-3 minutes on a low heat.
6. Put the frying pan under the grill, making sure to keep the handle away from the heat and allow the egg white to cook through for 1-2 minutes. The pan will need attending at all times. How to serve: Loosen the omelette around the edge with a palette knife and give the pan a gentle shake to release the bottom, slide the omelette onto a plate. Serve with warm baked beans.