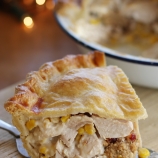 Click image to enlarge
Course: Main
Dish: Meat
Serves: 4-6
Nutritional information per serving:
Canned mushroom soup is a quick and convenient thickening sauce
Turkey and Stuffing Pie
This recipe is great for using up Christmas leftovers. If you haven't enough turkey to fill the pie dish try adding canned ham or additional vegetables – leeks and broccoli also work well.
Ingredients:
For the filling
295g can condensed mushroom soup
198g can sweetcorn, drained
400 - 500g cooked turkey meat, cut into bite-size chunks
100g stuffing, cut into bite size pieces
4 Tbsp crème fraîche or milk
For the pastry
1 Tbsp milk or beaten egg for glazing
Method:
1.

Preheat your oven to fan 170°C, conventional 190°C, gas 5.
2.

Empty the soup into a bowl and stir in the crème fraîche or milk.
3.

Add the turkey, stuffing, sweetcorn and seasoning to the bowl.
4.

Grease a 20cm ovenproof pie dish, then tak
e two thirds of the pastry,
roll it out on a floured surface and lay it onto the dish. Trim off the excess pastry.
5.

Place the prepared filling into the pastry-lined dish.
6.

Dampen the edge of the pastry rim with water, roll out the remaining pastry and cover the pie. Seal the edges well and trim neatly.
7.

Make a small hole in the centre of the pie to allow steam to escape, then brush the surface with milkor beaten egg.
8.

Bake for 30 – 40 minutes until the pastry is golden.