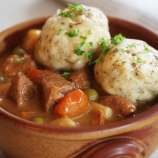 Click image to enlarge
Course: Main
Dish: Meat
Serves: 2
Nutritional information per serving:
Canned Irish stew can be used straight out the can with no preparation needed
Irish Stew with Dumplings
A real hearty meal that's ready in half an hour.
Ingredients:
400g can Irish stew
3 Tbsp water
For the dumplings:
50g self raising flour
25g shredded suet
1 Tbsp parsley, chopped or dried mixed herbs
Method:
1.
Empty the Irish stew into a small saucepan with the water.
2.
To make dumplings, sift the flour and salt together into a bowl and stir in the suet and parsley or mixed herbs.
3.
Add sufficient cold water to form a soft, elastic dough.
4.
Divide into 4 pieces, then roll them into balls with floured hands.
5.
Gradually heat the stew, add the dumplings, cover the saucepan with a tight fitting lid and simmer on a low heat for 15-20 minutes or until the dumplings are firm, light and fluffy. If the heat is too high, the casserole will stick and burn on the base of the pan.
Hints and Tips
Never leave uncooked dumplings standing, cook immediately for best results. Canned meat is a great source of nutrients such as iron and zinc.