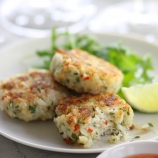 Click image to enlarge
Course: Starter
Dish: Fish
Serves: 2
Nutritional information per serving:
Canned crab meat is a tasty source of low-fat protein
Mini Crab Cakes
A fun take on crab cakes with an optional hint of chilli heat, great served with a green salad.
Ingredients:
170g can white crab meat, drained well
1 Tbsp mayonnaise
Zest and juice of one lime
½ red chilli, finely chopped
30g breadcrumbs
1 Tbsp coriander, finely chopped
Oil for frying
Chilli dipping sauce & rocket to serve
Method:
1.
In a bowl combine all ingredients. Shape the mixture into six equal size patties.
2.
Cover the patties with cling film and place in a refrigerator for at least 30 minutes.
3.
In a frying pan heat a little oil and shallow fry the crab cakes on a medium heat for two or three minutes on each side until golden.
4.
Remove from the pan and drain on kitchen paper.
5.
Serve with chilli dipping sauce and a small handful of rocket.
Hints and Tips
To save time crab cakes can be made the day before, covered with cling film and then placed in the refrigerator overnight. Canned crab is a good source of iron, which can stave off fatigue.