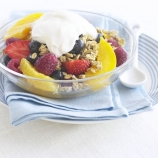 Click image to enlarge
Course: Main
Dish: Vegetarian
Serves: 2
Nutritional information per serving:
Calories: 281
Protein: 7.7g
Fat: 4.8g
Of which saturates: 1.8g
Carbohydrate: 55g
Fibre: 5.1g
Canned berries are high in vitamin C, a great natural protection against free radicals
Breakfast Fruit and Cereal Crumble
This recipe provides a tasty alternative to the normal breakfast cereal. Packed with fruit, this dish will set you up for the day.
10 minutes to prepare and cook. Serves 2.
Ingredients:
1 orange
225g (8 oz) canned peach slices, drained
125g (4 oz) canned or fresh berries, e.g. strawberries, blueberries, raspberries
A little fruit juice
85g (3 oz) crunchy cereal (granola)
2 – 3 tablespoons (30 – 45 ml) live bio-Yoghurt
Method:
1. Divide the orange into segments.
2. Mix with the canned peach slices and berries then divide the fruit into two bowls.
3. Pour over a little fruit juice, just enough to moisten the fruit.
4. Top each bowl with half the crunchy cereal and serve with a dollop of yoghurt.