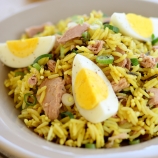 Click image to enlarge
Course: Main
Dish: Fish
Serves: 2
Nutritional information per serving:
Yellowfin tuna contains primary fat-soluble antioxidants that support muscle function
Yellowfin Tuna Kedgeree
A twist on a classic, using canned yellowfin tuna. You can always add peas or broccoli for a healthy way to increase your daily fibre intake.
Ingredients:
160g can Yellowfin Tuna, drained and flaked
150g Basmati & Wild Rice
1 tsp mild curry powder
2 spring onions, finely sliced
Juice of ½ a lemon
Seasoning
1 boiled egg, quartered
Method:
1.
Cook the rice according to pack instructions.
2.
Add the curry powder to the rice cooking water prior to boiling.
3.
When cooked, stir in spring onions, tuna and lemon juice, and season to taste.
4.
Garnish with the egg and serve.
Hints and Tips
For a quick and easy alternative, replace the tuna with canned pink salmon. Remember to buy sustainable canned fish.