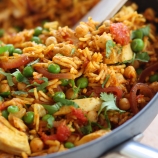 Click image to enlarge
Course: Main
Dish: Meat
Serves: 3-4
Nutritional information per serving:
Canned Chickpeas are a source of folic acid which helps to form healthy blood cells
Curried Chicken and Rice Stir-fry
A tasty stir-fry thats quick to prepare and cook, a great way to liven up mid-week meals.
Ingredients:
200g can chopped tomatoes
400g can chickpeas, drained
2 cooked chicken breasts, sliced
250g pouch precooked Basmati rice
125g frozen peas
2 Tbsp olive oil
1 red onion, sliced
1 clove garlic, finely chopped
3 Tbsp curry paste
100ml vegetable stock
1 Tbsp coriander, chopped (optional)
Mango chutney to serve
Method:
1.
Heat the oil in a deep-sided frying pan or wok.
2.
Add the onion and fry until it is just softening, then add the garlic and continue frying for one minute.
3.
Add the curry paste and rice, mix well.
4.
Add the tomatoes and stock, bring to the boil, and then reduce heat.
5.
Then add the chicken, chickpeas and peas. Simmer very gently for about five minutes or until the liquid has been absorbed and the rice and all the ingredients are heated through.
6.
Stir through the coriander and serve with spoonfuls of mango chutney.
Hints and Tips
For vegetarians, replace the cooked chicken withcanned pulses such as butterbeans. Remember that you can recycle all metal food cans.