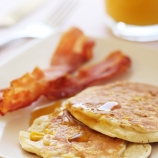 Click image to enlarge
Course: Starter
Dish: Meat
Serves: 4
Nutritional information per serving:
Canned sweetcorn is a source of folic acid which helps normal growth development and cell renewal
Mini Sweetcorn Pancakes
A healthy snack that's also perfect for breakfast, substitute tomato ketchup for maple syrup if you don't have a sweet tooth.
Ingredients:
195g can sweetcorn, drained
8 rashers streaky bacon
100g plain flour
1tsp baking powder
1 medium egg
150ml milk
Seasoning
Oil for frying
Maple syrup to serve
Method:
Sift the flour and baking powder together into a bowl. Make a hollow in the centre and add an egg.
Gradually add the milk, until all the flour is worked in and the batter is smooth.

Add the sweetcorn and seasoning and mix together.
Lightly oil a frying pan and heat until hot. Ladle in spoonfuls of batter to create pancakes approximately 4cm in diameter, then cook for one or two minutes each side or until firm and golden brown.
Keep the pancakes warm in the oven until they are ready to serve.
Grill the bacon until it is crispy.
Serve the sweetcorn pancakes with the bacon and maple syrup.
Hints and Tips
Canned sweetcorn gives us the golden pigment zeaxanthin, which is good for eye health. It's also convenient to use, and can be eaten straight out of the can.