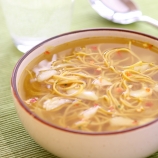 Click image to enlarge
Course: Main
Dish: Fish
Serves:
Nutritional information per serving:
Calories: 184
Protein: 17.7g
Carbs: 21.9g
Sugars: 0.7g
Fat: 3.5g
Sat Fat: 0.8g
Fibre: 0.9g
Sodium: 1.1g
Canned crab meat is often a cheaper option than fresh or frozen alternatives
Crab and Noodle Soup
Try adding a handful of shredded baby spinach leaves with the chilli flakes. Canned crab is great value for money and needs no preparation in advance of being cooked. Serves 2. To prepare and cook 10 minutes.
Ingredients:
170g can white crab meat, drained and flaked
60g block fine egg noodles
1 litre vegetable stock
1 tsp dried chilli flakes
Method:
· Pour the stock into a saucepan and bring to the boil.
· Plunge the noodles into the stock and cook for three minutes or until they are soft.
· Add the crab to the soup, then sprinkle with chilli flakes and serve.