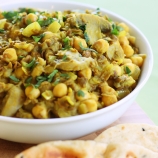 Click image to enlarge
Course: Starter
Dish: Vegetarian
Serves:
Nutritional information per serving:
Calories: 233
Protein: 13.3g
Carbs: 29.0g
Sugars: 3.8g
Fat: 7.7g
Sat Fat: 3.9g
Fibre: 1.0g
Sodium: 0.0g
Chickpeas are a source of vitamin E, great for your skin and maintaining a healthy heart
Chickpea Dhal
Canned lentils and mushrooms are great store-cupboard essentials that can be used to bulk up meals such as curries, casseroles and pasta dishes. Serves 4 as a side dish. 25 minutes to prepare and cook.
Ingredients:
410g can lentils, drained
300g can sliced mushrooms, drained
410g can chickpeas, drained
25g butter
1 onion, chopped
1 clove garlic, crushed
½ tsp ground turmeric
1 tsp cumin seeds
1 Tbsp coriander, chopped
Method:
· In a large saucepan melt the butter, then add the onion and garlic and fry for five minutes until soft.
· Add the turmeric and cumin seeds, and fry for a further minute.
· Next add the lentils and fry for five minutes, stirring occasionally.
· With a potato masher, crush the lentils until you have a creamy paste.
· Add the mushrooms and chickpeas, then allow the dhal to cook for a further five minutes.
· Serve garnished with fresh coriander.