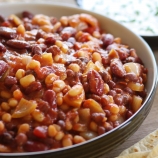 Click image to enlarge
Course: Main
Dish: Vegetarian
Serves: 4
Nutritional information per serving:
Canned tomatoes are an excellent source of cancer fighting antioxidant lycopene
Vegetarian Bean Chilli
20 minutes to prepare and cook. Serves 4.
Ingredients:
420g can kidney beans in chilli sauce
400g can chopped tomatoes
410g can haricot beans, drained
410g can adzuki beans, drained
1 Tbsp oil
1 onion, chopped
1 clove garlic, chopped
1 tsp chilli powder
1 tsp sugar
Pinch of salt
Sour cream and tortilla wraps to serve
Method:
1.
In a large saucepan heat oil, add the onion and garlic and fry for five minutes until soft and golden.
2. Add chilli powder and fry for a further minute.
3. Add the kidney beans in chilli sauce, tomatoes, haricot beans, adzuki beans, salt and sugar, then stir thoroughly to combine.
4. Bring to the boil and then reduce to a simmer for 10 minutes. Stir occasionally.
5. Serve with sour cream and warmed tortilla wraps.
Hints and Tips
For an extra hot dish, add fresh chillies.
Freezing
This recipe can be frozen for up to two months. Defrost thoroughly in a refrigerator prior to reheating.