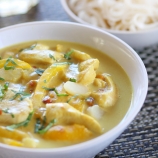 Click image to enlarge
Course: Main
Dish: Meat
Serves: 4
Nutritional information per serving:
Canned coconut milk is a good source of manganese, great for healthy bones
Satay Chicken Curry
25 minutes to prepare and cook. Serves 4.
Ingredients:
4 chicken breasts, sliced
400 ml can coconut milk
225g can water chestnuts, drained and sliced
1 yellow pepper, sliced
2 tsp mild curry powder
6 Tbsp crunchy peanut butter
1 Tbsp oil
1 Tbsp coriander, chopped for garnish
Noodles or rice to serve
Method:
1.
Heat the oil in a large pan. Add chicken and stir-fry for three minutes. Add pepper and curry powder and stir-fry for a further minute.
2. Stir in the peanut butter and coconut milk and continue stirring whilst bringing to the boil.
3. Reduce to a simmer, add water chestnuts and allow the curry to cook for a further 10 minutes until chicken is cooked through.
4. Garnish with coriander and serve with noodles or rice.
Hints and Tips:
To bulk out the dish with more exotic flavours, add some canned bamboo shoots.
Freezing:
This recipe can be frozen, prior to the coriander garnish being added.Freeze for up to two months. Defrost thoroughly in a refrigerator prior to reheating.