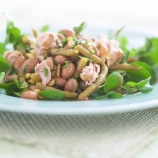 Click image to enlarge
Course: Starter
Dish: Fish
Serves: 4
Nutritional information per serving:
Calories: 311
Protein: 19g
Fat: 20g
Of which saturates: 2.2g
Carbohydrate: 16g
Fibre: 6.7g

Canned green beans are a source of folic acid which is essential for healthy blood cells
Borlotti Bean and Tuna Salad with Pine Nuts
A delicious twist on a simple salad, try this recipe to keep your healthy diet exciting.
10 minutes to prepare and cook.
Ingredients:
300g can green beans, drained
420g can borlotti beans, drained
200g can tuna in olive oil, drained
60 g (2 oz) pine nuts toasted
1 tablespoon (15 ml) fresh parsley, chopped
1 packet (100 g) of ready-washed watercress
Dressing:
2 tablespoons (30 ml) extra virgin olive oil
1 tablespoon (15 ml) balsamic vinegar
1 small garlic clove crushed
½ teaspoon (2.5 ml) Dijon mustard
Method:
1. Place the green beans, borlotti beans and tuna in a large salad bowl. Combine, roughly breaking up the tuna into large flakes. Stir in the pine nuts and parsley.
2. Place the dressing ingredients in a bottle or screw-topped glass jar and shake until combined. Add half of the dressing to the bean mixture and mix until well combined.
3. Place the watercress in a bowl and toss with the remaining dressing. Spoon the bean salad over the watercress.

Canny fact:
You can find sustainable canned fish at the supermarket.