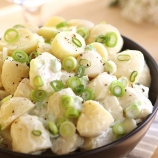 Click image to enlarge
Course: Starter
Dish: Vegetarian
Serves: 4
Nutritional information per serving:
Canned potatoes contain Vitamin C, which is great for cellular growth
Potato Salad
5 minutes to prepare. Serves 4.
Ingredients:
2 x 300g cans new potatoes, drained and sliced in half
3 Tbsp mayonnaise
4 spring onions, finely sliced
Method:
1.

In a large bowl combine the mayonnaise and spring onions, and stir together.
2.

Add the potatoes and tumble gently in the mayonnaise to coat the potatoes.
Hints and Tips
For a more substantial salad add a small of can of ham, cut into chunks.