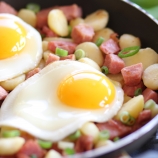 Click image to enlarge
Course: Main
Dish: Meat
Serves: 2
Nutritional information per serving:
Canned potatoes contain vitamin B6 which turns carbs, protein and fat into energy
Ham'n'Eggs
15 minutes to prepare and cook. Serves 2.
Ingredients:
545g can new potatoes, drained, cut into thick slices
200g can ham, diced
2 medium eggs
3 spring onions, finely sliced
1-2 Tbsp oil
Freshly ground black pepper
Crusty bread to serve
Method:
1. Heat oil in a large frying pan. Add potatoes and fry for two minutes.
2. Add ham and stir-fry with potatoes for three or four minutes until they are turning golden.
3. Stir in the spring onions.
4. Make two hollows in the frying pan and add a little more oil if required. Crack an egg into each and turn down the heat to allow the eggs to set.
5. Season with black pepper and serve with crusty bread.
Hints and Tips
Add some fresh, halved cherry tomatoes with the spring onions if required.