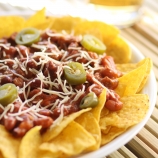 Click image to enlarge
Course: Starter
Dish: Meat
Serves: 2-4
Nutritional information per serving:
Canned chilli con carne is a great source of iron which is vital for healthy red blood cell production
Chilli Nachos
15 minutes to prepare and cook. Serves 2 as a main course or 4 as a starter.
Ingredients:
400g can chilli con carne
115g bag tortilla chips
1 Tbsp Emmental cheese, finely grated
1 Tbsp sliced, green jalapenos, drained
Guacamole or sour cream to serve
Method:
1.

Heat the chilli con carne in a saucepan for five minutes until hot.
2.

Place tortillas in a large frying pan on a low heat, carefully tossing to warm through.
3.

To serve, arrange tortillas on a large plate or platter and pour over chilli.
4.

Sprinkle with cheese and scatter over jalapenos. Serve with guacamole and sour cream.
Hints and Tips
Jalapenos can be replaced with fresh chillies if preferred.