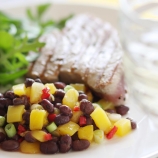 Click image to enlarge
Course: Main
Dish: Fish
Serves: 4
Nutritional information per serving:
Canned tuna contains primary fat-soluble antioxidants that support muscle function
Tuna with Black Bean & Mango Salsa
20 minutes to prepare and cook. Serves 4.
Ingredients:
For the salsa:
400g
can black beans, drained
400g
can mango slices, drained and finely chopped
Method:
1. Marinate the tuna steaks in the soy sauce whilst preparing the salsa.
2. For the salsa, combine the black beans, chopped mango, chillies, lime juice and spring onions.
3. Heat a griddle plate or BBQ.
4. Dry the tuna on kitchen paper, rub with olive oil and season well.
5. Place the tuna on a griddle or barbecue and cook for about two minutes each side – this will depend on the thickness of the tuna, but avoid overcooking.
6. Serve tuna immediately with mango salsa.

Hints and Tips:
Using canned foods minimises mess – they are already prepared in the can and don't create leftover food waste.