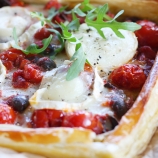 Click image to enlarge
Course: Starter
Dish: Vegetarian
Serves: 4-6
Nutritional information per serving:
Canned black olives are convenient and ready to use straight out the can
Tomato & Olive Tart
45 minutes to prepare and cook. Serves 4-6.
Ingredients:
400g can chopped tomatoes
400g can cherry tomatoes, drain juice and reserve
50g can black olives, drained and quartered
100g log of firm goat's cheese, cut into 6 slices
375g puff pastry
1 medium onion, thinly sliced
1 Tbsp olive oil
25g butter
2 cloves garlic, thinly sliced
2 tsp sugar
2-3 Tbsp pesto
Milk for glazing
Method:
1.
Preheat oven to fan 180°C, conventional 200°C, gas 6 and grease a large baking sheet.
2. Heat the oil and butter in a wok or deep sided frying pan, fry the onion until soft and just changing colour, add the garlic and fry for a minute.
3. Add the chopped tomatoes, drained juice from the cherry tomatoes and sugar. Simmer rapidly until the tomato sauce thickens.
4. Add the cherry tomatoes and olives; remove from heat and leave to cool while you prepare the pastry.
5. Roll the pastry into a rectangle approximately 22cm x 35cm and place on a baking sheet, score with a sharp knife 2cm from the outside edge, without cutting through the pastry.
6. Brush the outside edge of the pastry with milk.
7. Spread pesto over the pastry base, top with tomato sauce and goats cheese.
8. Bake for 20 minutes until the pastry is well risen, and the cheese is golden.
Hints and Tips
Canned tomatoes are a great source of the health-protecting antioxidant lycopene.