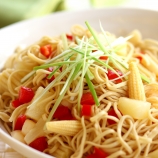 Click image to enlarge
Course: Starter
Dish: Vegetarian
Serves: 4-6
Nutritional information per serving:
Canned pineapples are a great source of vitamin C, which is essential for body growth and repair
Sweet & Sour Noodle Salad
21 minutes to prepare and cook. Serves 4-6.
Ingredients:
1
can water chestnuts, drained and sliced
1
can baby corn, drained and cut in half diagonally if preferred
227g
can pineapple pieces in juice, drain and reserve juice
1
small red pepper, finely diced
3
blocks medium egg noodles
3
spring onions, shredded for garnish
Dressing
Method:
1. Put a large pan of water on to boil. Plunge the noodles into the water and simmer for four minutes until just soft.
2. Drain the noodles well and rinse under cold running water. Drain again and place in a large bowl.
3. Add the pineapple, red pepper, water chestnuts and baby corn.
4. To make the dressing, beat together the pineapple juice, olive oil, soy sauce and honey and season well.
5. When ready to serve, pour over the dressing and mix well.
6. Serve garnished with spring onion.
Hints and Tips
It's much quicker and healthier to make this noodle salad from scratch using canned ingredients, rather than buying takeaway food – and it costs less too.