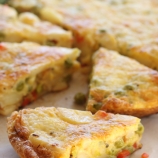 Click image to enlarge
Course: Starter
Dish: Vegetarian
Serves: 4
Nutritional information per serving:
Calories: 362
Protein: 20.3g
Carbs: 17.8g
Sugars: 4.8g
Fat: 23.8g
Sat Fat: 9.5g
Fibre: 3.3g
Sodium: 0.6g
Canned potatoes contain vitamin B6 which turns carbs, protein and fat into energy
Spanish Style Tortilla
20 minutes to prepare and cook. Serves 4.
Ingredients:
300g can potatoes, drained and sliced
200g can peas, drained
1 small onion, finely sliced
1 small red pepper, finely diced
6 medium free-range eggs
75g cheddar cheese, grated
15g butter
1 Tbsp olive oil
Seasoning
Green salad to serve
Method:
1.
Heat butter and oil in a medium sized frying pan
2. Add the onion and fry for three minutes until just beginning to soften, add the pepper and potato and continue frying for a further two minutes.
3. Add the peas.
4. Preheat the grill.
5. Beat together the eggs and season well. Pour over the potato mixture, sprinkle with cheese and cook on a hob, a low to moderate heat, for four or five minutes until the mixture begins to set and the base is golden.
6. Place the frying pan under the grill and continue cooking until the mixture is golden and just firm in the centre.
7. Cut into wedges and serve with a green salad.
Hints and Tips
You can find canned garden peas and potatoes that contain no added sugar or salt, and are only canned in water.