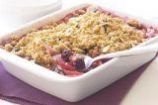 Click image to enlarge
Course: Dessert
Dish: Vegetarian
Serves: 4
Nutritional information per serving:
Calories: 420
Protein: 6.9g
Fat: 22g
Of which saturates: 3.3g
Carbohydrate: 52g
Fibre: 5.4g
Canned berries are high in Vitamin C, a great natural protection against free radicals
Blackberry Oat Crumble with Almonds
This recipe provides the answer to anybody looking for the perfect, healthy dessert.
1 hour to prepare and cook. Serves 4.
Ingredients:
2 large cooking apples, peeled, cored and sliced
284 g can blackberries in fruit juice
2 tablespoons (30 ml) water
2 tablespoons (30 ml) acacia honey
40 g (1.5 oz) plain flour
40 g (1.5 oz) wholemeal flour
25 g (1 oz) oats
60 g (2 oz) olive oil margarine
60 g (2 oz) flaked almonds
40 g (1 ½ oz) brown sugar
Method:
1. Pre-heat the oven to 190C/ 375F/Gas mark 5.
2. Put the prepared apples, blackberries, their juice and water into an ovenproof dish. Stir in the honey.
3. For the topping, put the flours and oats in a bowl and rub in the margarine until the mixture resembles coarse breadcrumbs. Mix in the almonds and sugar. (Alternatively, mix in a food processor)
4. Spread the crumble mixture over the fruit and bake in the oven for 25 – 30 minutes until the topping is lightly golden.