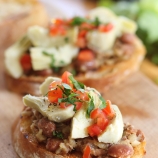 Click image to enlarge
Course: Starter
Dish: Vegetarian
Serves: 4
Nutritional information per serving:
Calories: 370
Protein: 14.9g
Sugars: 5.6g
Fat: 14.6g
Sat Fat: 2.2g
Fibre: 10.5g
Sodium: 0.4g
Borlotti beans are deliciously nutty in flavour and creamy in texture - with no need to soak!
Artichoke & Tomato Bruschetta
5 minutes to prepare. Serves 4.
Ingredients:
410g can artichoke hearts, drained and quartered
410g can borlotti beans, drained
1 small ciabatta
2 plum tomatoes, finely diced
1 small onion, finely chopped
3 Tbsp olive oil
2 cloves garlic
1 Tbsp chopped parsley for garnish
Method:
1.

Heat 1 Tbsp oil in a deep sided frying pan or wok, add the onion and fry until golden.
2.

Add the borlotti beans, heat through and roughly mash.
3.

Cut the ciabatta into eight thick slices.
4.

Preheat a ridged griddle pan or BBQ. Toast the ciabatta until scorch lines appear, turn over and toast the second side.
5.

Rub the toasted ciabatta with garlic, drizzle with remaining olive oil, arrange on a serving dish.
6.

Top each ciabatta with the mashed borlotti beans, artichokes and diced tomato.
7.

Serve immediately, garnished with parsley.
By using canned beans, you can avoid the hassle and time of soaking and blanching them.