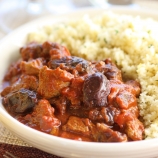 Click image to enlarge
Course: Main
Dish: Meat
Serves: 4
Nutritional information per serving:
An 80g serving of canned prunes provides 1/8 of the RDA for iron. Iron is important for preventing lethargy
Quick Lamb Tagine
35 minutes to prepare and cook. Serves 4.
Ingredients:
350g lamb fillet, sliced
400g can chopped tomatoes
410g can prunes, drained and stoned
250g cous cous
2 Tbsp olive oil
2 tsp Ras el Hanout or Moroccan Spice Blend
400ml boiling water
Juice and rind of a lemon
1 Tbsp fresh mint, chopped
Pinch of salt
Method:
1. Heat one Tbsp of oil in a large pan. Add the lamb and stir-fry for three minutes.
2. Add the spice blend to the lamb and fry for a further minute.
3. Add the tomatoes, bring the pan to the boil and then reduce to a simmer for 15 minutes, or until the lamb is tender.
4. Stir in the prunes and simmer for a further five minutes.
5. Meanwhile, prepare the cous cous by placing in a large heatproof bowl with the boiling water and one Tbsp of oil.
6. Cover with cling film and allow the cous cous to stand for five minutes.
7. Remove cling film and then add lemon rind and juice, mint and salt. Fork through the cous cous and serve immediately with the lamb.

Hints and Tips:
Canned prunes are rich in iron, which boosts your red blood cells and helps to prevent tiredness and anaemia.
Freezing:
This recipe can be frozen, prior to the prunes being added.Freeze for up to two months. Defrost thoroughly in a refrigerator prior to reheating.