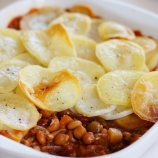 Click image to enlarge
Course: Main
Dish: Vegetarian
Serves: 4
Nutritional information per serving:
Canned mixed pulses are a healthy addition to many dishes
Vegetable Hotpot
Dip into this traditional favourite, a tasty winter dish that will keep you feeling satisfied.
45 minutes to prepare and cook. Serves 4.
See "u.can cook" for more recipes devised with James Martin
Ingredients:
295g
can condensed vegetable soup
410g
can mixed pulses, drained
3
large potatoes, very thinly sliced
1
red onion, finely diced
Method:
1. Preheat oven to fan 180°C, conventional 200°C, gas 6.
2. Place the potato in a large pan and bring to the boil for 5-7 minutes, until just beginning to soften, drain well.
3. Heat oil in a frying pan and fry onion until soft, add the garlic and fry for a further minute.
4. Stir in the soup, stock and pulses, heat through and pour into a casserole dish.
5. Arrange potatoes in a layer over the vegetable mixture.
6. Brush the butter over the potatoes, bake for 30 minutes, or until the potato is cooked through and golden brown.
7. Delicious served with fresh crusty bread.
Hints and Tips: Try stirring dried or fresh herbs into the vegetable mixture and sprinkling with cheese before putting in the oven.
Freezing: Freeze in single potions without the potato topping. Delicious served as a topping on a baked potato, sprinkled with grated cheese.