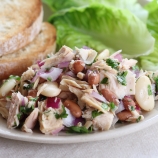 Click image to enlarge
Course: Main
Dish: Fish
Serves: 4-6
Nutritional information per serving:
Tuna Salad
Add onions and beans to your classic tuna salad to give it a tasty twist, with plenty of healthy vegetables.
10 minutes to prepare. Serves 4-6.
See "u.can cook" for more recipes devised with James Martin
Ingredients:
2 x 160g
cans tuna in olive oil, drain and reserve oil
410g
can borlotti beans, rinsed and drained
420g
can butter beans, rinsed and drained
1
large red onion, finely diced
20g
flat leaf parsley, finely chopped
Method:
1.
Flake tuna and place in a large bowl. Add onion and beans and toss together to combine ingredients.
2.
To make dressing, combine olive oil drained from the tuna with lemon juice, garlic and seasoning.
3.
Add parsley and then drizzle the olive oil over the tuna. Transfer to serving bowl and serve with green salad and toasted ciabatta to mop up the juices.
Canny Fact:
You can find sustainable canned fish at the supermarket.
Hints and Tips: Any leftovers can be mashed and then used as a filling for jacket potatoes, pitta breads or wraps.