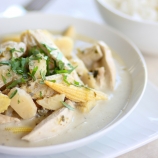 Click image to enlarge
Course: Main
Dish: Meat
Serves: 4
Nutritional information per serving:
Canned coconut milk is great for curries, puddings and drinks and is a source of calcium
Thai Green Chicken Curry
Be transported to the realms of Asia with this healthy curry, which contains just 243 calories.
25 minutes to prepare and cook. Serves 4.
See "u.can cook" for more recipes devised with James Martin
Ingredients:
225g
can water chestnuts, drained and sliced
410g
can baby corn cobs, drained and cut in half diagonally
100g
Thai Green curry paste
1 Tbsp
chopped coriander for garnish
Method:
1.
Gently fry the curry paste in a wok or deep sided frying pan for 2 minutes.
2.
Add 3 Tbsp coconut milk, add the chicken and stir-fry in the curry paste mixture for 5 minutes.
3.
Add remaining coconut milk, water chestnuts and baby corn cobs, turn the heat down and simmer gently for 5 – 10 minutes or until the chicken has cooked through.
4.
Garnish with chopped coriander and serve with plain boiled Jasmine rice.
Hints and Tips: Try replacing the baby corn cobs with a can of drained green beans.
Freezing: This recipe can be frozen. Defrost thoroughly in a refrigerator prior to reheating.