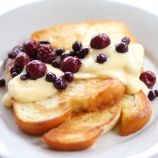 Click image to enlarge
Course: Dessert
Dish: Vegetarian
Serves: 2
Nutritional information per serving:
Canned dairy custard is low in fat and a rich source of calcium, which is essential for maintaining healthy bones
Summer Fruit Brioche
An indulgent combination of creamy custard and juicy fruit, which can be made at any time of the year.
15 minutes to prepare and cook. Serves 2.
See "u.can cook" for more recipes devised with James Martin
Ingredients:
300g
can summer fruits, drained
Method:
1.
Cut 3 slices of brioche in half diagonally.
2.
In a large frying pan melt the butter and fry the brioche for a few minutes each side until golden.
3.
Divide the brioche onto 2 plates.
4.
Place half the summer fruits on each plate along with the custard.
Hints and Tips: Alternatively, replace summer fruits with canned raspberries or cherries.