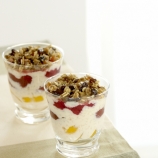 Click image to enlarge
Course: Dessert
Dish: Vegetarian
Serves: 4
Nutritional information per serving:
Energy: 310 kcals/1308kJs
Carbohydrates: 52.7g
Protein: 5.5g
Fat: 8.6g
Fibre: 3.8g

When fruit is out of season, use canned alternatives for 'freshly harvested' flavour all year round!
Berried Treasure
Fuel your children's bodies with this delicious snack, sneakily packed with healthy ingredients and vitamins.
30 minutes to prepare and cook. Serves 4.
See "Off the Shelf" for more recipes devised with James Martin
Ingredients:
25g butter
15ml (1 tablespoon) golden syrup
100g muesli
411g can apricots, chopped
425g can rice pudding
410g can strawberries, drained
300g can raspberries, drained
Method:
1. Slowly melt 25g butter with 15ml (1 tablespoon) golden syrup in a pan. Add 100g muesli, mix and set aside to cool.
2. Divide all the chopped apricots (from a 411g can) evenly between 4 glasses or sundae glass. Cover each apricot layer with a tablespoon of rice pudding from a 425g can.
3. Add a layer of drained strawberries (from a 410g can) followed by a tablespoon of rice pudding. Then add 1 x 300g can drained raspberries, followed by a layer of rice pudding.
4. Divide the muesli topping evenly between the four glasses. Serve immediately.