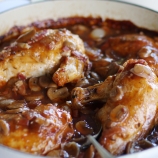 Click image to enlarge
Course: Main
Dish: Meat
Serves: 4
Nutritional information per serving:
Canned mushrooms count as one on your 5-A-DAY
Speedy Coq Au Vin
An impressive meal that takes just a fraction of the time usually needed to prepare this French classic dish.
55 minutes to prepare and cook. Serves 4.
See "u.can cook" for more recipes devised with James Martin
Ingredients:
4
chicken portions, skin on
300g
can chopped mushrooms, drained
4
shallots, peeled and quartered
6
rashers smoked streaky bacon, chopped
Method:
1.
Preheat oven to fan 180°C, conventional 200°C, gas 6.
2.
Heat oil in a large flameproof oven dish and brown chicken for 5 minutes on both sides. Remove chicken and set aside.
3.
Add shallots and bacon to the dish and fry together for 5 minutes until bacon is golden and crispy. Remove from dish with a slotted spoon and drain off any excess oil from the dish.
4.
Return chicken, shallots and bacon to the dish and stir in red wine sauce, thyme and mushrooms.
5.
Cover and place in the oven for 30 minutes or until chicken is cooked, stirring occasionally.
6.
Serve with new potatoes and green beans.
Hints and Tips: Chicken breast or thighs can also be used, adjust cooking time accordingly.
Freezing: This recipe can be frozen. Defrost thoroughly in a refrigereator prior to reheating.