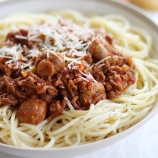 Click image to enlarge
Course: Main
Dish: Meat
Serves: 4
Nutritional information per serving:
Canned mushrooms count as one of your 5-A-DAY
Spaghetti Bolognese
An Italian favourite and full of protein. The bacon and celery add extra flavours to this classic dish.
25 minutes to prepare and cook. Serves 4.
See "u.can cook" for more recipes devised with James Martin
Ingredients:
400g
can chopped tomatoes
285g
can button mushrooms, drained
1
red onion, finely diced
3
rashers streaky bacon, finely sliced
1
stick celery, finely diced
300g
spaghetti or pasta shapes
Method:
1.
In a large saucepan heat oil and fry onion until soft.
2.
Add garlic, bacon and celery and fry until bacon begins to brown.
3.
Add mince and brown well.
4.
Stir in tomatoes, stock and tomato puree, bring to the boil and then simmer gently for 15 minutes.
5.
Add mushrooms and gently heat through.
6.
Serve with spaghetti or pasta, sprinkled with grated Parmesan cheese.
7.
Delicious served with garlic bread.
Freezing: Bolognese sauce can be portioned and freezes well.