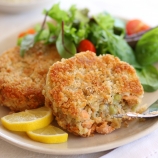 Click image to enlarge
Course: Main
Dish: Fish
Serves: 4
Nutritional information per serving:
Canned salmon contains essential Omega-3 fats which help to regulate blood pressure and keep bodies healthy
Salmon & Mushy Pea Fishcake
Fishcakes are fun to make and always go down a treat at the dinner table.
26 minutes to prepare and cook. Serves 4.
See "u.can cook" for more recipes devised with James Martin
Ingredients:
418g
can wild red salmon, drained
300g
can marrowfat processed peas, drained
500g
potatoes, peeled and cut into large chunks
Method:
1.
Boil the potatoes until soft, drain very well, mash and season well with salt and pepper.
2.
Place the salmon in a large bowl; remove any large bones and skin.
3.
Add the marrowfat peas and mashed potato and mix together well.
4.
Divide into 8 portions, and shape into a fishcake shape, place on a baking sheet, cover and chill.
5.
Brush the fishcake with egg and coat well with breadcrumbs.
6.
Shallow fry the fishcakes for 3-4 minutes on each side or until golden brown.
7.
Delicious served with a green salad and tartare sauce.
Canny Fact:
You can find sustainable canned fish at the supermarket.
Hints and Tips: Try serving fishcakes with a chilli dipping sauce.
Freezing: To freeze, egg and crumb well, place on a baking sheet or on a flat tray and place in the freezer. When the fishcakes are frozen, place in a polythene bag or an airtight container. Cook from frozen on a gentle heat.