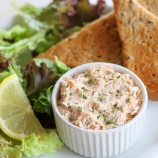 Click image to enlarge
Course: Starter
Dish: Fish
Serves: 4
Nutritional information per serving:
Canned salmon contains vitamin D, which is essential for healthy bones
Salmon Pate
The perfect starter for a special dinner – delicious salmon with a touch of pepper and lemon juice.
10 minutes to prepare. Serves 4.
See "u.can cook" for more recipes devised with James Martin
Ingredients:
213g
can pink salmon, drained
Black pepper for seasoning
Method:
1.
Place the salmon in a bowl with the cream cheese.
2.
Add the dill and lemon juice.
3.
Mash together and season with black pepper.
4.
Serve with toast and a side salad.
Canny Fact:
You can find sustainable canned fish at the supermarket.
Hints and Tips: Dill can be replaced with chives if preffered.